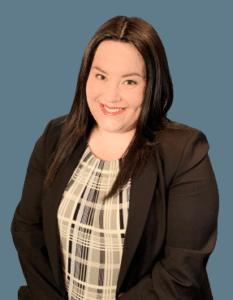 Miranda Mayhill grew up in a working-class family in Springfield, Illinois. She was the first member of her family to ever attend college. She earned her B.A. in psychology from Lincoln Christian University, graduating summa cum laude with a 4.0 GPA.
Miranda then served as the Director of a community program for at-risk youth, where she worked with impoverished children and families. This opened her eyes to the need for legal advocacy on behalf of people in crisis.
Desiring to become a voice for those in need, she chose to attend law school at The College of William and Mary, where she earned numerous scholarships; was honored as a Research Fellow; and graduated cum laude.
Miranda spent the first several years of her legal career as an indigent criminal defense attorney. During this time, she reports having the pleasure of representing hundreds of clients and conducting many trials. Miranda is excited to continue her career as an advocate for injured people, believing that it is a great privilege to be entrusted with seeking justice on behalf of another person.
Miranda is a member of the Virginia State Bar and the American Association for Justice, is admitted to practice in all state trial and appellate courts in Virginia, and has litigated cases in every level of state court, including the Supreme Court of Virginia.
Outside of work, Miranda enjoys spending time with her husband and young son; playing with the family pets (a dog and two cats), knitting, and reading mystery novels.