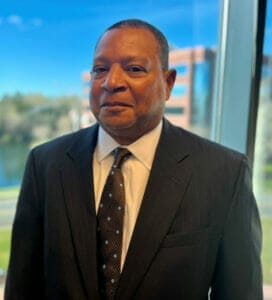 Lamonte was born in The Bronx, New York and graduated from Brooklyn College with a Bachelor of Arts degree. He obtained his Juris Doctor degree from Regent University.
Lamonte married his childhood sweetheart, Stephanie, moved to Northern Virginia and then relocated to Hampton Roads. They have three daughters.
Lamonte was a Public Defender in Newport News and Chesapeake. He has held management positions in personal and commercial lines of insurance and has managed several catastrophic injuries through litigation. As a Personal Injury attorney for several years, specializing in motor vehicle injuries, Lamonte is dedicated to serving his clients during their most difficult times.
Lamonte follows the New York sports teams and relaxes by barbecuing, listening to music, and working in his garden.
Education:

John Jay College of Criminal Justice – Humanities concentration
Brooklyn College – BA Communications
Regent University – Juris Doctor
Admitted:
Virginia Bar
Affiliations:
American Association for Justice
Virginia State Bar
Practice area:
Personal Injury

Contact an experienced Injury Claims Lawyer at The Joel Bieber Firm today for your free initial consultation.