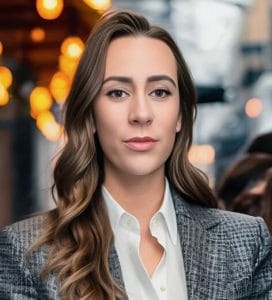 Kelly Stevenson is a successful trial attorney with extensive litigation and investigation experience. She devoted her early legal career to public defense having represented clients in thousands of court proceedings, as both children and adults, in a wide range of complex matters with intricate collateral consequences. Her advocacy and negotiation skills have led to the successful resolution of many of her client's cases. 
While working for the Defender Association of Philadelphia and assigned to the Children and Youth Justice Unit, she represented a number of children who suffered emotional and psychological trauma throughout dependent and criminal proceedings. She was hand-picked by the law firm she represented at the time to serve as defense counsel in a specialized court program called WRAP Court (Working to Restore Adolescents' Power) for children who were victims of sex-trafficking and subsequently came into contact with the criminal justice system. Kelly takes a trauma informed approach when advocating for her clients, and fights tirelessly to ensure that her clients are protected and supported throughout the court process.
Kelly's dedication to protecting the rights and dignities of her clients and holding institutions accountable for their actions has been instrumental in her early success. She recently tried a complex jury trial where the Philadelphia Police Department, who not only failed to arrest the correct person, but also consciously disregarded the fact that they arrested the wrong person. Kelly highlighted the mishandling of her client's case and the deliberate indifference to systemic injustice. Her masterful trial skills led to a verdict of not guilty on all counts and renewed her client's sense of hope and dignity.
Prior to her work as a trial attorney, Kelly worked for the California Appellate Project, a non-profit organization in San Francisco, California; where she focused on constitutional claims of intellectual disability pending before the California Supreme Court. During law school, Kelly was a Marshall-Brennan Constitutional Literacy Fellow. Throughout her fellowship she taught constitutional law to students in the Philadelphia School District. The fellowship culminated in a moot court tournament where two of her students competed in the Marshall-Brennan Moot Court Competition at the Thomas R. Kline School of Law.
In her free time, Kelly enjoys cycling and has completed 75- and 100-mile charitable cycling tours in the greater Philadelphia region. She was a competitive swimmer at the high school and collegiate level, and continues to swim with a Master's Swimming Team. She is a dog lover with two of her own: Riley, a yellow lab, and Roman, a black shepherd. Both of her dogs were adopted from local rescues where she continues to volunteer and raise awareness.
We feel very fortunate to have her working in multiple firm departments that include Sexual Assault and Personal Injury. Her passion for her clients is immediately evident.
Education:

Arcadia University (B.A. Psychology, 2015)

Drexel University Thomas R. Kline School of Law (J.D. 2018)

Bar Licenses:
Admitted to Bar, Pennsylvania
Eastern District of Pennsylvania
Charitable Activities:
Bike MS: City to Shore Ride
To Love a Canine Rescue, Inc.
Saved Me Rescue
Contact an experienced Injury Claims Lawyer at The Joel Bieber Firm today for your free initial consultation.