FLESH-EATING GENITAL INFECTION KNOWN AS FOURNIER'S GANGRENE LINKED WITH DIABETES MEDICATIONS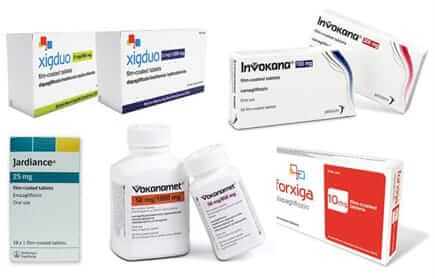 Have you taken any of the following medications for Type 2 Diabetes?
|  Brand Name |  Active Ingredient(s) |
| --- | --- |
|  Invokana |  canagliflozin |
|  Invokamet |  canagliflozin and metformin |
|  Invokamet XR |  canagliflozin and metformin extended-release |
|  Farxiga |  dapagliflozin |
|  Xigduo XR |  dapagliflozin and metformin extended-release |
|  Qtern |  dapagliflozin and saxagliptin |
|  Jardiance |  empagliflozin |
|  Glyxambi |  empagliflozin and linagliptin |
|  Synjardy |  empagliflozin and metformin |
|  Synjardy XR |  empagliflozin and metformin extended-release |
|  Steglatro |  ertugliflozin |
|  Segluromet |  ertugliflozin and metformin |
|  Steglujan |  ertugliflozin and sitagliptin |
These drugs, known as SGLT2 inhibitors, are used in conjunction with diet and exercise to lower blood sugar in adults with type 2 diabetes. Unfortunately, the FDA has linked these medications with a life-threatening genital infection called FOURNIER'S GANGRENE.
From FDA.gov (https://www.fda.gov/Drugs/DrugSafety/ucm617360.htm):
The U.S. Food and Drug Administration (FDA) is warning that cases of a rare but serious infection of the genitals and area around the genitals have been reported with the class of type 2 diabetes medicines called sodium-glucose cotransporter-2 (SGLT2) inhibitors. This serious rare infection, called necrotizing fasciitis of the perineum, is also referred to as Fournier's gangrene.
Known as "flesh-eating disease" or "flesh-eating bacteria," necrotizing fasciitis is a life-threatening bacterial infection of the tissue under the skin that surrounds muscles, nerves, fat, and blood vessels of the perineum. The bacteria may enter the body through a break in the skin, where they quickly spread and destroy the infected tissue. The condition must be treated immediately because it may severely damage the tissues around the genital area. Dozens of patients have been diagnosed with this condition after using SGLT2 inhibitor medications. In the five years between March 2013 and May 2018, the FDA identified 12 patients who developed Fournier's gangrene within several months of starting an SGLT2 inhibitor. All 12 patients were hospitalized and required surgery. Some of the patients developed severe complications, others necessitated multiple disfiguring surgeries, and one patient died. In comparison, over a period of more than 30 years, the FDA identified only six cases of Fournier's gangrene when reviewing other antidiabetic drug classes.
WHAT SHOULD YOU DO?
1. SEEK MEDICAL ATTENTION IMMEDIATELY if you are taking an SGLT2 inhibitor and you experience any symptoms of tenderness, redness, or swelling of the genitals or the area from the genitals back to the rectum, and have a fever above 100.4 F or a general feeling of being unwell. (https://www.fda.gov/Drugs/DrugSafety/ucm617360.htm).
2. SAVE YOUR PRESCRIPTION BOTTLE/PRINTOUT.
3. CONTACT US TO INVESTIGATE IF YOU HAVE A CASE. If you have taken an SGLT2 inhibitor and have suffered from necrotizing fasciitis or an infection in the genital region, please contact us.
Contact an experienced Injury Claims Lawyer at The Joel Bieber Firm today for your free initial consultation.